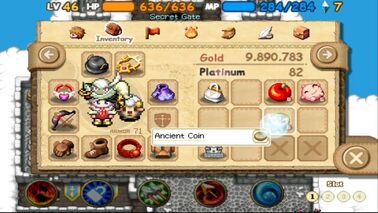 Ancient Coin
A coin minted in ancient times.
Etc. Items
Sell Price to Secret Vendors: 50
Gold
Sell Price at Black Trader: 7k-25k
Gold

How to Obtain:
Opening a
Gift Box,
Event Gift Box,
Trade

Scroll of Arena (80) to
Valcon.

Used:
Trade 3 to

Rafril/Ratas (located next to respective spawns at the beach)for experience and 1 K of gold. Experience given is equal to your character's level multiplied by 50.


Notes:
Ancient Coins can be found as low as 5K during event box drops, but can potentially rise up to 25K in absence of event box drops. Used primarily to level up at higher levels.