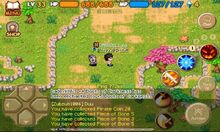 Ancient Treasure
It's really old.
Supply

How to Obtain:
Dropped by Monsters between level 20 to 29.

Used:
You may receive:


Gold (1000)


Piece of Bone (3) or (5)

Pirate Coin (1-20)


Fantastic Powder


Recall Scroll (3) or (5)


Design: Mid Level Bone

Design: High Level Bone


Ancient Blood


Ancient Feather


Weapon Enchant Scroll (B Class)


Armor Enchant Scroll (B Class)

Related Items:


Strange Treasure


Wingfril's Treasure


Deathbone Treasure


Bremen Treasure


Medusa Treasure

Ad blocker interference detected!
Wikia is a free-to-use site that makes money from advertising. We have a modified experience for viewers using ad blockers

Wikia is not accessible if you've made further modifications. Remove the custom ad blocker rule(s) and the page will load as expected.