The World of Magic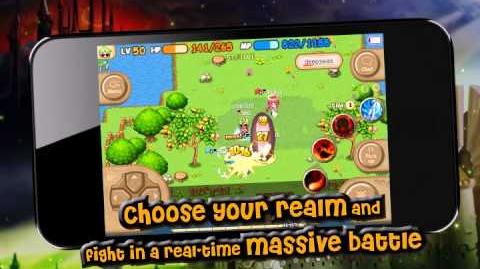 The World of Magic, also known as IMO, or TWOM, was released in 2010 in English by Com2uS. The Korean version was released in 2006 by the same founder and this game was the first ever MMORPG released into the appstore. By 2011 the game received it's first ever pet followed by a gift box event. This has been carried on every month. This game was released to Android Users in 2012 making it able to be used by almost everyone with the addition of two more servers to support the new players. In early 2012, Com2uS held an event for TWOM's Anniversary. In middle summer 2012, Com2uS held an event for the anniversary of Com2uS in which where you could get old pets and a special bag. With over 1000000 players already playing, the game is rated 4 and a half out of 5. This game was chosen as Google Play's Featured RPG Game! The description of the game is from Com2uS as followed.
---
Are you ready to become a hero?
Enter 'The World of Magic', the first MMORPG ever on mobile!
In this ancient and mystical world, two forces are in conflict: the Siras Empire, led by the young and ambitious Emperor Kanos, and the Kingdom of Lanos, which King Roberto tries to keep independent. Choose a side and explore, learn, fight your way to the top!
Be whoever you want: a tame ranger, a whimsical magician or a fearsome warrior; get a pet to aid you in your tasks.
More than one million players are already online! Join them with friends from around the world. Create your own guild and lead your team in the World of Magic!
Enjoy The World of Magic anywhere you go with a WiFi or 3G network!
This game supports English and 한글.
FEATURES
ENDLESS PLAYTIME
Classic MMORPG style gaming that never stops.
CLASS SELECTION
Choose from 3 unique classes: Warrior, Ranger, Magician.
SOCIAL NETWORKING
Speak to your friends: whisper, guild, party, and shout.
PvP ARENA
Fight against players from different realms in real-time.
---
Com2uS

Com2uS was a company created and released in South Korea, 1998. In 2007, Com2uS was listed on KOSDAQ. In 2011, Com2uS worked in US, China, Korea, and Japan. In 2006, Com2uS released the first MMORPG to the world in Korean, and 4 years later, in English. The company is most known for all it's apps on iOS and Android.
Ad blocker interference detected!
Wikia is a free-to-use site that makes money from advertising. We have a modified experience for viewers using ad blockers

Wikia is not accessible if you've made further modifications. Remove the custom ad blocker rule(s) and the page will load as expected.