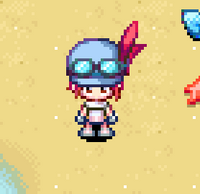 Intensified Woopa Helmet
A helmet made of intensified Woopa Scales.
Hat
Level Required: 18
Class Required:

Warrior
Armor: 4
Strength: 0-4
Sell Price to Secret Vendors: 3K

Gold
Sell Price at Black Trader: 20K-450K

Gold
Requires 10

Gemstones to repair.
Extract Cores:
2nd Core (4)

How to Obtain:
Trade NPC
Radin at

Wingfril Island Beach with

Intensified Woopa Scale (50) and

Fantastic Powder (3).


Related Items:


Woopa Scale Helmet

Notes:
Recommended for BF2 warrior campers.