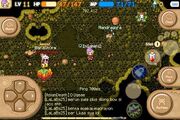 Mandragora

Location:
Mushroom Spore: (758,362)

Secret Vendor: No

Faction: Neutral

Attackable by other Faction: No

Quests:
Pick up the Mandragora to complete Pafris' Search for Legendary Herb.

Items Sold:
None


Note:
Can only be picked up one at a time when you have

Earplugs in your inventory.
No longer in use.