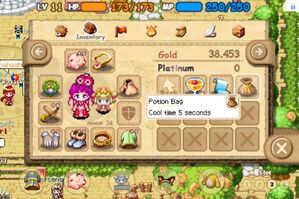 Potion Bag
A bag with a random potion in it.
Etc. Items
Sell Price to Secret Vendors: 250

Gold

How to Obtain:
Dropped by most

Monsters.
Chance when opening

Box.

Used:
When opened, you may receive any of the following potions:


Lesser Healing Potion


Healing Potion


Greater Healing Potion


Lesser Mana Potion


Mana Potion


Greater Mana Potion


Greater Restoration Potion


Health Regeneration Potion


Mana Regeneration Potion


Stimulant


Move Speed Potion

Thawing Potion


Old Scroll (1-2)


Notes:
Comes in packs of 3.
Ad blocker interference detected!
Wikia is a free-to-use site that makes money from advertising. We have a modified experience for viewers using ad blockers

Wikia is not accessible if you've made further modifications. Remove the custom ad blocker rule(s) and the page will load as expected.