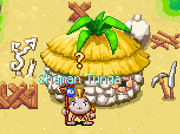 Shaman Tunga

Location:

Wingfril Island Beach: (1690,677)

Secret Vendor: No

Faction: Neutral

Attackable by other Faction: No

Quests:
Trade

Woopa-Roopa Totem to obtain
Teleport 3.
Trade

Woopa Bronze Bell to obtain

Weakness (Volume III).
Trade

Woopa Crystal Scale to obtain
Bull Rush (Volume III).
All of the quest items:


Woopa-Roopa Totem


Woopa Bronze Bell


Woopa Crystal Scale
are dropped by

CHIEF WOOPAROOPA.