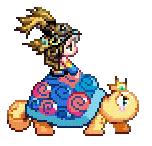 TURTLE ZZZ


Level: 33

Attack Style: Ranged

Special Skill:
Ice Prison
Flame of Kataru

Aggressive: No

Health: 5000

Item Drops:
Gold
Joma's Pendant
Old Scroll
Mystic Oil
Armor Enchant Scroll (A Class)
Weapon Enchant Scroll (A Class)
Crown (100% chance)
Red Turtle Shell
Blue Turtle Shell
Pet Crystal (2)
Adventurer's Bag

Respawn Time: It respawns 3 times a week.
1. After maintenance.
2. 68 hours and 25 mins.
3. 65 hours.

Found in: Island with the Lighthouse: (1900, 700), (1900, 2000), (1200, 2000)

Related Monsters:
Turtle Z
MALTARGUARDIAN


Ad blocker interference detected!
Wikia is a free-to-use site that makes money from advertising. We have a modified experience for viewers using ad blockers

Wikia is not accessible if you've made further modifications. Remove the custom ad blocker rule(s) and the page will load as expected.