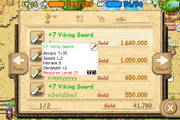 Viking Sword
A sword that once was used by a viking. Higher than the

Iron Sword.
Weapon
Level Required: 23
Class Required:

Warrior or

Ranger
Damage: 7 to 35
Speed: 1.2
Hit Rate: 0 to 10
Strength: 0 to 6
Requires 40

Gemstones to repair.
Extract Cores:
3rd Core x 8

How to Obtain:
Dropped by:

Dan Dan

Ding Ding

Dong Dong

Dung Dung


CAPTAIN TWIN
Open
Dungeon Chest 20.
Crafted by

Combine Book II with

Iron Sword,
3rd Core (40), and

Gold (500)



Ad blocker interference detected!
Wikia is a free-to-use site that makes money from advertising. We have a modified experience for viewers using ad blockers

Wikia is not accessible if you've made further modifications. Remove the custom ad blocker rule(s) and the page will load as expected.